Pure Storage introduces the revolutionary FlashArray//C50, an all-in-one storage solution that will transform your data management experience. Get ready to embrace the future with our EverGreen Forever New Storage and Turnkey Solution.
Unified block and file QLC storage
Up to 9PB effective capacity with 6U
Business critical workloads
Disaster recovery and data protection
Test/dev environments
Lowest Cost per GB – US$0.2/GB
Learn More about FlashArray//C50: Value-Optimized Storage | FlashArray//C | Pure Storage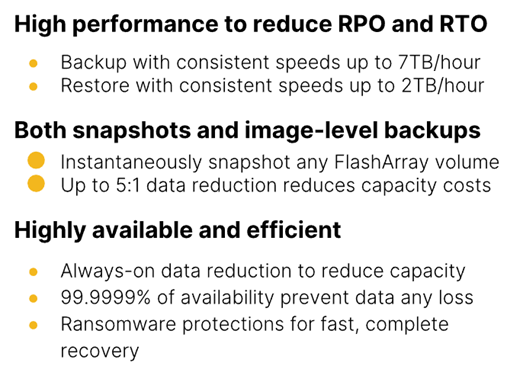 Features - FlashArray//C50
Intuitive, Evergreen Experience
• All-flash NVMe Evergreen Storage™ with data reduction, built for 99.9999% availability, replication, and cloud portability.
Hyper-consolidation
• Consolidate massive data stores with up to 8.9PB effective in three-, six-, or nine-rack unit.
Performance
• Predictable, consistant latency as low as 2ms, suitable for business-critical workloads
• NVMe and NVME-oF (Fibre Channel, RoCE, TCP)
Built-in Symmetric Clustering
• ActiveCluster provides zero RPO and RTO, is easy to use, and comes built-in at no extra cost.
Better TCO
• Pair hybrid storage economics with less management overhead, power, cooling, and data-center real estate.
Industry Recognition
• A Gartner® Magic Quadrant™ Leader for storage nine times in a row.
• Certified Net Promoter Score in the top 1% of B2B Companies by Medallia
Consolidate, Accelerate, and Protect your data with economical, all-flash storage
Purity for FlashArray delivers rich, enterprise-level data services; DirectFlash global flash management; and Evergreen improvements with every release. All Purity storage services, APIs, and advanced data services are built-in and included with every array.
• Data reduction: Purity averages an industry-leading 5:1 data reduction with a total efficiency of 10:1 (including thin provisioning).

• Always-on encryption: Purity's "encrypt everything" approach provides built-in enterprise-grade data security without user intervention or key management.

• High availability: Purity protects against concurrent dual-drive failures and initiates re-builds automatically within minutes. Purity also treats performance variability as a failure and uses parity to work around bottlenecks to deliver consistent latency.

• Unified storage with file services: If you run NAS-based apps in addition to SAN-based enterprise databases, Purity's consolidated SAN and NAS capabilities let you avoid the trouble and expense of running two incompatible environments.

• Always-on ransomware remediation: Cost-efficient, portable, SafeMode snapshots prevent cyber attackers from tampering with or maliciously destroying critical recovery data.

• Intelligent quality of service (QoS): Purity continuously tunes infrastructure using always-on QoS to prevent workloads from hogging resources and to ensure maximum utilization of the array.

• Faster, more consistent performance: Pure DirectFlash Fabric gives you maximum throughput with microsecond latency that's far more predictable than with conventional SSDs.

• On-demand data portability: Quickly and easily move data where they most cost-effectively meet service level agreements to satisfy your customers: between both physical and virtual machines, between on-premises and the cloud
The FlashArray//C50 makes all the complexity of data storage a thing of the past. With this All-in-One solution, you can enjoy:

Pure Storage Evergreen Model – Non-Disruptive Upgrade (NDU)
Non-Disruptive Upgrade (NDU) is a software upgrade, hardware expansion, and/or replacement that doesn't impact data availability or performance. In an ideal scenario, that means no downtime, no data migrations, and no degradations in performance. 
*Evergreen NDU upgrade with latest model forever
Software
Always got the most updated version OS (Purity)
All-inclusive array software subscriptio
No extra license needs to be purchased.
Hardware
No matter Controller upgrade / Capacity expansion
No Downtime
No Migration
No impact of data availability or performance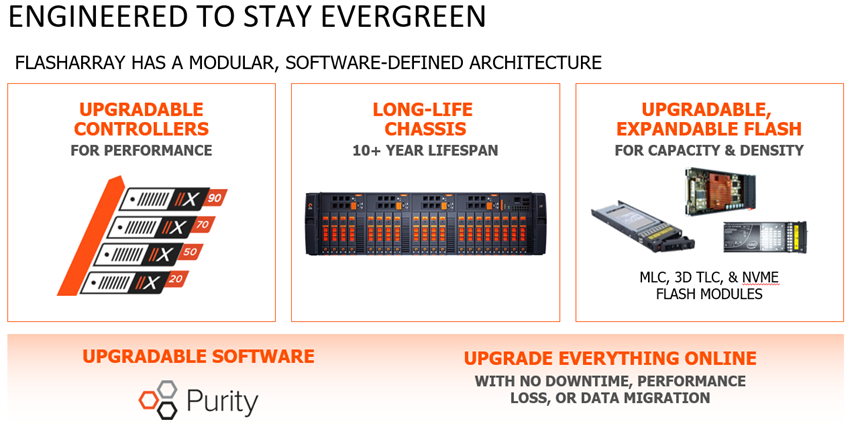 Upgrade controllers (or blades) at regular intervals
Keep your Pure Storage's performance, scale, and features modern without disruption or need to repurchase.
Free Every Three
With each three-year Evergreen//Forever renewal, you get a free latest-generation controllers (or blades).
About ATech Communication (HK) Limited
ATech Communication (HK) Ltd is one of the leading IT equipment & service provides for HKSAR Government Departments and Bureaux.  We provide the best value and the best IT solution to our customers. Please visit our Cases page to learn more about our successful works. For more information on ATech, please contact us at enquiry@atechcom.net.