Simple, flexible, reliable and powerful
Provided by Atech Communication (HK) Limited
Veeam Backup Solution - Modern Data Protection for Enterprise
When you explore ways to use data to promote business growth, you need a modern solution that provides intelligent protection, management, and reuse of your stored backup data. Learn how to use [MarketAsset5321] and Veeam® to take data management to the next level.
Protect and manage all workloads through a single platform
Get faster innovation and improved customer and employee experience with the Veeam platform (the most complete data protection solution for all data). It aims to accelerate business agility by providing a single platform for cloud, virtual, physical, software-as-a-service (SaaS) and Kubernetes data management and protection, extending beyond core backup and recovery.
The Veeam Platform delivers a solution that is:
Universal licensing that fits your needs
The Veeam Universal License (VUL) is an easy-to-use per-workload license available through subscription or perpetual options to protect data in local and multi-cloud environments. VUL is portable and transferable, so it faces the future. It can easily move between VMware, Hyper-V, Windows, Linux, NAS, Amazon Web Services (AWS), Azure, etc. Two enterprise software packages are available: Veeam Availability Suite™ and Veeam Backup & Replication™.

Future-proof

Multi-cloud

Portable

Low TCO

No lock-ins

No cloud tax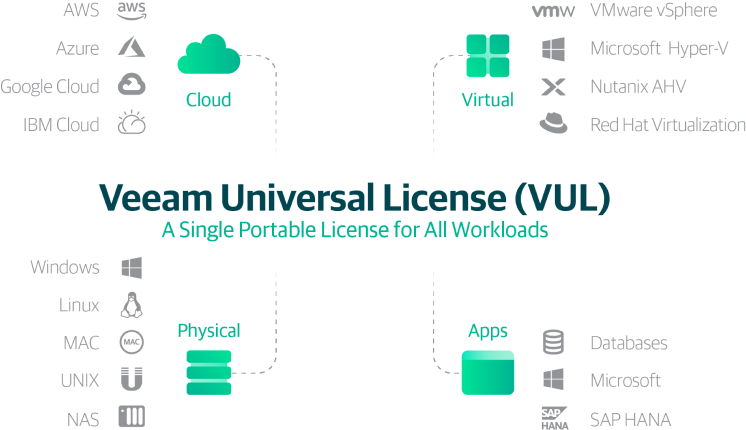 Veeam Availability Suite combines the monitoring functions of Veeam ONE™ with the powerful data protection functions of Veeam Backup & Replication in an enterprise bundle to meet your protection and analysis needs.
By combining these two industry-leading products, you can more easily meet advanced data protection needs while gaining key insights into their configuration to achieve better data protection and business agility.
Veeam Backup Solution & Replication
4-in-1 data protection that combines backup, replication, snapshots — and now Continuous Data Protection (CDP) — with 20x cheaper archive storage and greater ransomware protection.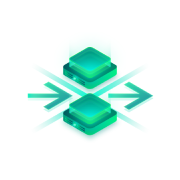 Unified monitoring and reporting across on-premises and cloud environments to ensure that ALL your data is protected, secure, compliant and ready for recovery.
Reliable and scalable Microsoft 365 backup
Although Microsoft 365 provides a series of powerful services, comprehensive data backup is not one of them. This is your organization's data-you control it-and you are responsible for protecting it.
With Veeam Backup for Microsoft 365, you can eliminate the risk of losing access and control to large-scale data, including Exchange Online, SharePoint Online, OneDrive for Business, and Microsoft Teams, so you can always protect and access your data.

Mitigate risks
With an encrypted, multi-factor authenticated Microsoft 365 backup

Improve time
To recover Microsoft 365 items and deliver IT resources efficiently

Get peace of mind
That you can quickly meet legal and compliance requests
Still not sure if you need to protect your Microsoft 365 data? 
Contact

Us for seven critical reasons why you should start Microsoft 365 backup right now!
Veeam Backup Solution - Disaster Recovery Orchestrator
Easily recover from any disaster, even ransomware
Quickly recover data from any disaster. Veeam Disaster Recovery Orchestrator (VDRO) uses the power of Veeam Backup & Replication to automate the disaster recovery (DR) process. Automated testing and dynamically generated documents allow one-click recovery. Use [MarketAsset5321] and Veeam to reduce risk, save time, and recover with confidence.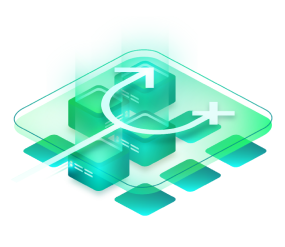 From mission-critical workloads where the recovery point objective (RPO) is close to zero, to applications that enterprises ignore due to lack of DR planning resources, VDRO will simplify your DR through automated testing, dynamic document generation, and avoidance of RPO and recovery time objectives (RTO) Violation, so you can recover with one click.