Data Migration / Replication - NetApp
Data Management Technology – NetApp Products and Solution
Data Migration / Replication - SnapMirror
SnapMirror Data Replication
SnapMirror is a feature of ONTAP that delivers high-speed, efficient, and secure data transport for enhanced site-to-site failover and disaster recovery. You get efficient, array-based replication for backup and disaster recovery across the data fabric.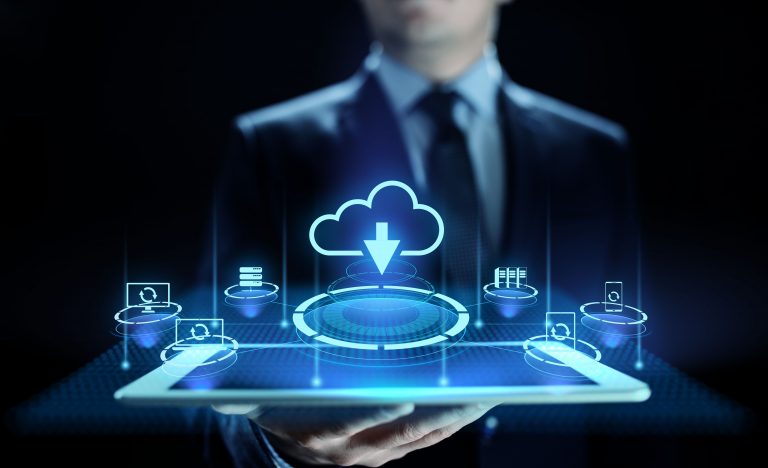 An effective disaster recovery (DR) solution protects data against system failures, power failures, and site failures. You can boost cost efficiency and get maximum return on your investment if that solution can also reduce costs and let you use your DR facility for business intelligence. Such cost efficiency makes it easier to provide DR for more of your data. Although backups can help you recover lost data from an archival medium such as tape, disk, or the cloud, mirroring is the most popular data availability mechanism for business continuity and disaster recovery, especially if you would like to minimize downtime.
NetApp® SnapMirror® is disaster recovery technology, designed for failover from primary storage to secondary storage at a geographically remote site. SnapMirror replicates data at high speeds over LAN or WAN, so you get high data availability and fast data replication for your business-critical applications, including Microsoft Exchange, Microsoft SQL Server, and Oracle, in both virtual and traditional environments. And when you replicate data to one or more NetApp storage systems and continually update the secondary data, your data is kept current and remains available whenever you need it. No external replication servers are required.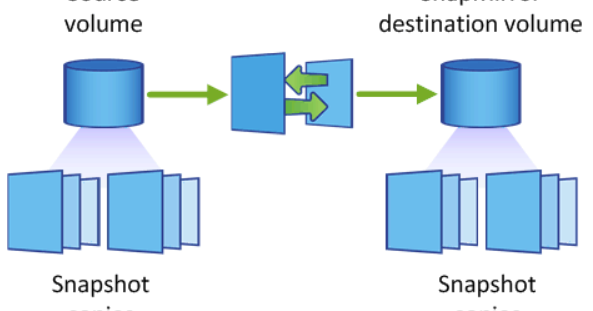 Maximize Uptime and Accelerate Your Business with NetApp SnapMirror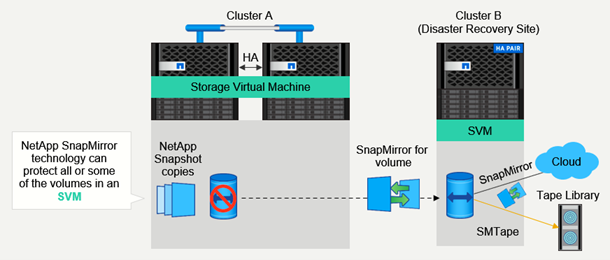 You can increase availability and speed disaster recovery with NetApp SnapMirror software. SnapMirror is a cost-effective, multipurpose solution that replicates data at high speeds over LAN or WAN. It provides you with rapid recovery for your business-critical applications and data migration, in both virtual and traditional environments. SnapMirror is used by more than 13,000 businesses around the globe, protecting more than 669 petabytes of used data using asynchronous replication.
With SnapMirror, you can:
Keep your business running
Lower your TCO
Increase efficiency
SnapMirror Data Replication - Key benefits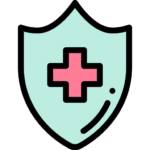 Improve speed recovery and availability
Easily manage replication between storage endpoints, from flash to disk to cloud. Seamlessly and efficiently transfer data between NetApp storage systems to support backup and disaster recovery with the same target volumes and I/O streams. Fail over to any secondary volume. Recover from any point-in-time snapshot on secondary storage. Protect your most critical workloads with available zero data loss synchronous replication (RPO=0).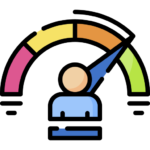 Lower your total cost of ownership
Use your secondary data for positive business use and reduce your overall TCO by up to 60%. Data is stored locally, so features such as NetApp® FlexClone® technology enable you to create near-instant, space-efficient copies of data on secondary or tertiary storage. You can use these copies for a variety of business functions without any negative impact on your production system.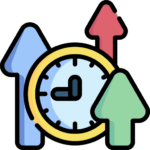 Reduce bandwidth utilization and storage space
Thin replication and native network compression reduce bandwidth utilization and reduce secondary storage requirements for backup and disaster recovery. With SnapMirror, you can reduce network traffic by up to 50% by leveraging a thinly replicated data stream to create a repository that maintains both an active mirror and a previous point-in-time copy.
Cloud Sync service is an easy-to-use cloud replication and synchronization service for transferring files between on-premises NFS or CIFS file shares, Amazon S3 object format, Azure Blob, Google Cloud Storage, IBM Cloud Object Storage, Cloud Volumes Service, Azure NetApp Files, or NetApp StorageGRID®. Cloud Sync quickly and securely moves the files to where you need them.
Cloud Sync Service: Smooth and Secure Data Synchronization
Transferring data between disparate platforms and maintaining synchronization can be challenging for IT. Moving from legacy systems to new technology, server consolidation, and cloud migration, require large amounts of data to be moved between different domains, technologies, and data formats. Existing methods such as relying on simplistic copy tools or homegrown scripts—that must be created, managed, and maintained—may be unreliable or not robust enough, and can fail to address challenges such as:
Getting a dataset to the new target effectively and securely
Transforming data to the new format and structure
Having a timeframe and keeping data up to date
Managing the cost of the process
Validating migrated data consistently and completely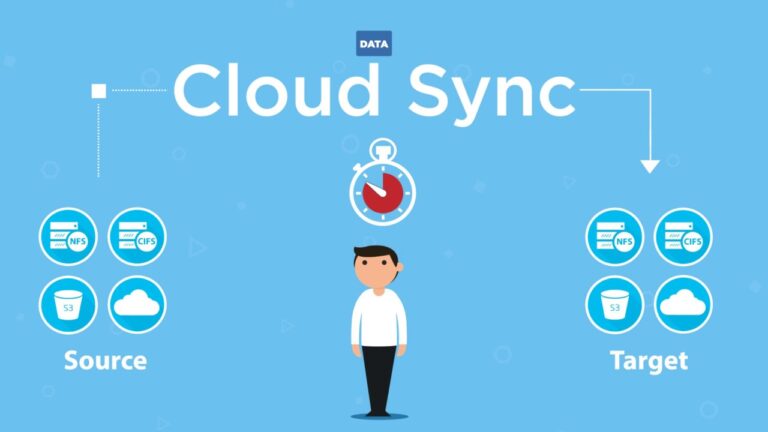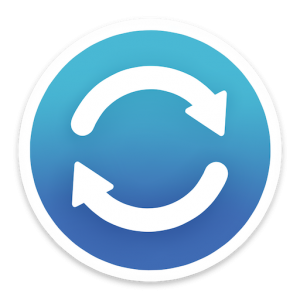 Cloud Sync gives you the ability to:
Migrate data incrementally to and from NFS, CIFS, Amazon S3, Amazon EFS, Azure Blob storage, Google Cloud Storage, Cloud Volumes Service, Azure NetApp Files, NetApp StorageGRID Webscale appliance, or any other cloud provider object store
Consolidate data from multiple systems into a single repository
Facilitate greater collaboration between data personnel
Move workloads to the cloud strategically
Tier data to capacity storage to free up space in performance tier systems
Archive data for compliance or regulatory purposes
Use AWS Azure or Google Cloud for long-term data management or access by other cloud services, such as data analytics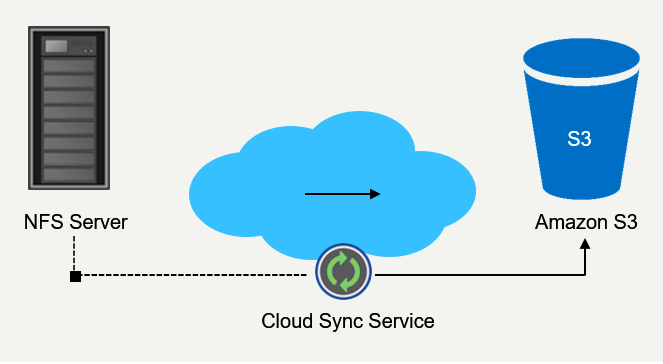 Cloud Sync provides multiple advantages for your business:
Quick, simple, and easy to operate
Safe and secure
Smooth integration
Cost effective
Intelligent Data Growth Management
NetApp solves the most pressing data management challenges
Mange your entire hybrid/multicloud data storage infrastructure efficiently
Cloud Tiering = Intelligent Data Growth Management
Discover

Identify your ONTAP-based clusters/volumes

Tier

Set target ONTAP object-based storage
Define data tiering policies

Manage

Adjust policies as necessary

We'll take it from here

Sit back and relax
You get more storage for less cost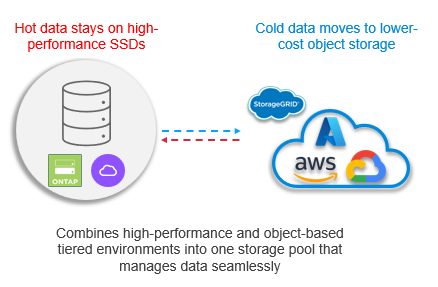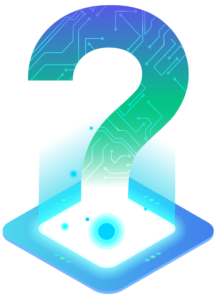 What is Data Migration / Replication?
Data migration is a one-time process of moving internal data from one storage system to another; it may include preparing, extracting, and transforming the data if necessary.
It sounds a bit like data replication or data integration, but each process is different. Data replication is the goal of periodically copying data from a data source on one platform to another, while data integration combines data from disparate sources into a data warehouse target or analytical tool.