Are you concerned about the growing threat of DDoS attacks and the potential impact they can have on your network infrastructure? Look no further than NSFOCUS Anti-DDoS Solution for robust and reliable protection.
NSFOCUS Anti-DDoS Solution
PERFORMANCE. QUALITY. VALUE
The ADS is the ideal solution for today's advanced and evolving DDoS attacks. Available in a range of cost and performance optimized appliances, purpose-built to deliver high quality defenses for Service Providers of any size.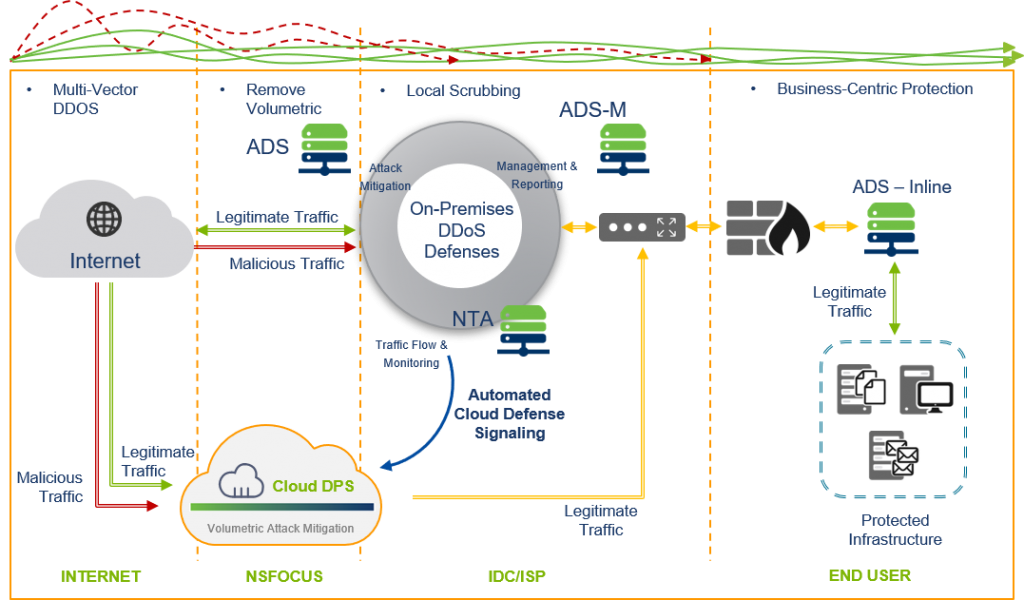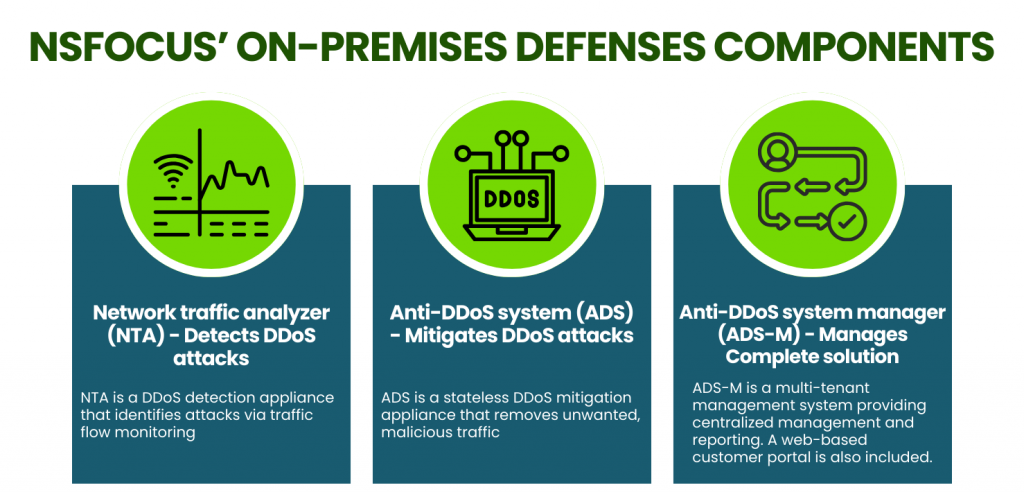 NSFOCUS Anti-DDoS Solution - Benefits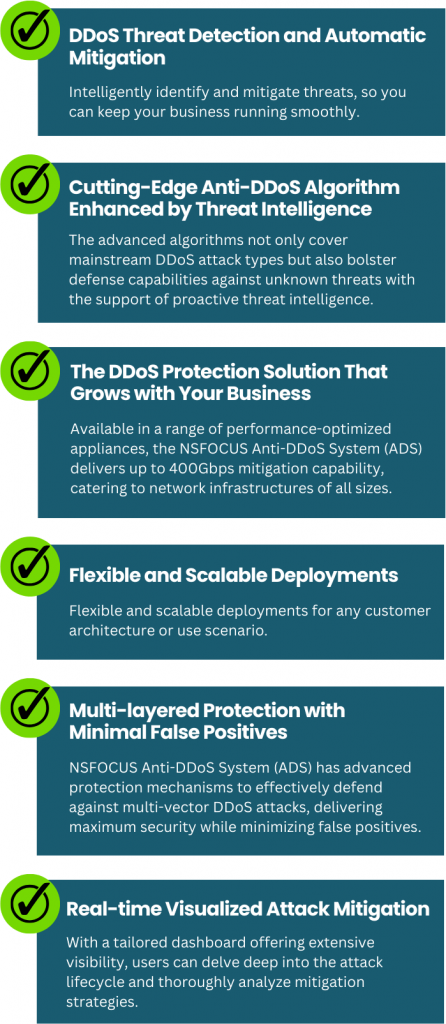 Concordant and closed loop defenses
The NTA monitors network activity, accurately identifying DDoS traffic from other streams. It offers customizable alert plugins and machine learning capabilities. The ADS works with the NTA to divert malicious traffic and ensure low-latency, accurate re-injection of legitimate traffic. ADS-M provides real-time views and centralized management for enhanced network security and administration.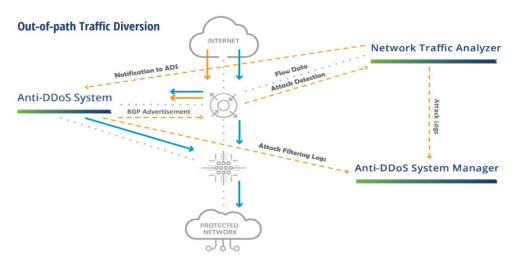 Industry-leading accuracy and precise mitigation
NSFOCUS On-Premises DDoS Defenses offer 20+ years of experience, protecting against various attacks without requiring additional modules. They provide fine-grained protection, integrate with NSFOCUS Threat Intelligence, and ensure service availability.
Scalability performance and easy to deploy
ADS defends at network ingress, while NTA and ADS-M can be placed anywhere. ADS models range from 200Mbps to 400Gbps capacity, with flexible licensing. Clustering protects large networks. Virtualization saves CAPAX. Open API simplifies integration and automates tasks.
Multi-tenant, centralized management with high visibility
ADS-M is a centralized management system that offers configuration, reports, and monitoring. It supports multi-tenancy, allowing administrators to monitor traffic and attacks for each tenant. The system provides comprehensive reports on attack types, targets, protocols, network status, and more. It also includes a customizable customer portal for Managed DDoS Services, offering web-based access for traffic analysis and reporting.
NSFOCUS hybrid ddos defenses
Defeating DDoS attacks requires both cloud and on-premises defenses. NSFOCUS offers Hybrid DDoS Defenses, combining both approaches for comprehensive protection. Automatic diversion is supported without manual intervention.
SOFTWARE SPECIFICATIONS – ADS 
DDoS Protection
» Comprehensive, stateless, multi-layered protection against volumetric, application, and web application attacks
» Multi-protocol support and advanced inspection including TCP/UDP/ICMP/ HTTP/ HTTPS/DNS/SIP floods, Amplification attacks (NTP/SSDP/SNMP/CHARGEN/ Memcached),
fragments floods, connection exhaustion, header manipulation and more
» Integrated with NSFOCUS Threat Intelligence
» DNS Rate-Limiting, DNS TCP-BIT Check, DNS CNAME Check, DNS Retransmission, DNS Keyword Checking
» HTTP Keyword Checking, HTTP Authentication, HTTP Dynamic Script, HTTP FCS Check, HTTP Pattern Matching Check, HTTP Slow Attack Check
» IP Behavior Analysis, Trusted Source IP Control, Empty Connection Check
» HTTPS SSL Connection Control, HTTPS Authentication
» SIP Authentication
DDoS Mitigation Algorithms
» RFC Checks, Black Filter Lists, NTI Black Filter Lists,
White Filter Lists, GEOIP Filter Lists, Access Control Lists
» TCP Regular Expression Filtering, TCP SYN Source IP Rate Limit, TCP SYN Source Bandwidth Limit, TCP SYN Time Sequence Check, TCP Fragment Control, TCP Watermark Check, TCP Pattern Matching
» SYN Check, ACK Check, Port Check, Connection Exhaustion, URL-ACK Filter Lists, Anti- spoofing, Protocol ID Check
» ICMP Fragment Control, ICMP Traffic Control
» UDP Regular Expression Filtering, UDP Payload Check, UDP Fragment Control, UDP Packet Length Check, UDP Traffic Control, UDP Watermark Check, UDP Pattern Matching, Reflection Amplification Rules
SOFTWARE SPECIFICATIONS – NTA
Management
» Protocols: HTTP, SNMP, Email, Syslog
» Authentication: Local database, Radius
» API: web services for reporting and automated configuration
IP Protocols
» Addressing: IPv4/v6
» Routing: BGP, OSPF, RIP, IS-IS, static routing, and PBR
» Data link and network layer: MPLS, GRE, VLAN (802.1q)
Virtual ADS
» Virtual ADS KVM platform available
Flow Monitoring
» sFlow-v4/v5, Netflow-v5/v9, NetStream-v5, Flexible Netflow, IPFIX
DDoS Mitigation Algorithms
» SYN/ACK/UDP/ICMP/IGMP/HTTP/HTTPS/DNS/LAND/SIP/Protocol null/Tcpflag null/Tcpflag misuse/DNS query/DNS response/NTP amplification/SSDP amplification/SNMP amplification /CHARGEN amplification floods, private IP abnormal, traffic abnormal, auto-learning baseline, region/IP group inbound/outbound traffic abnormal
» False source IP detection
» Integrate with NSFOCUS Threat Intelligence
Traffic Diversion
» ADS Diversion
» BGP Diversion
» Null-Route Diversion
» FlowSpec BGP
Management Interfaces and Reporting
» Formatting: XML, PDF, CSV
» SNMP GET/Trap, syslog, Email, Flow data forwarding
» Scheduled Email report
» Traffic Report, DDoS Attack Report, Bogus Source IP Report, Traffic Comparison Report
Virtual NTA
» Virtual NTA on VMware and KVM platform available
SOFTWARE SPECIFICATIONS – ADS-M
Centralized Management and Configuration
» Devices: add, delete and configure
» Monitoring: Overview, DDoS Traffic Monitoring, Net Traffic Monitoring, Attack Events, Countermeasures
» Security Policy Configuration
Reporting
» Attack events, attack summaries, traffic trends
» Extensive logging: attack summary, traffic alerts, performance, link state, authentication activity
» Real-time and historical reporting
» Scheduled Email report
Role-Based Management Authentication
» System Administrator
» Device Config Administrator
» Region Administrator
» Audit User
» Custom Access User
» Region User
Virtual ADS-M
» Virtual ADS-M on VMware and KVM platform available
Why Choose NSFOCUS Anti-DDoS Solution?
Unparalleled Expertise:
With years of experience in the field of network security, NSFOCUS has established itself as a trusted leader in combating DDoS attacks. Our solution is backed by industry-leading expertise and a proven track record of successfully mitigating attacks for organizations across various industries.

Comprehensive Defense:
Our Anti-DDoS Solution offers comprehensive protection against a wide range of DDoS attack types. With advanced algorithms and proactive threat intelligence, we detect and mitigate both known and emerging threats, ensuring the continuity of your business operations.

Scalability and Flexibility:
No matter the size of your network infrastructure, NSFOCUS has you covered. Our solution is designed to scale with your business, offering performance-optimized appliances and flexible deployment options. You can rest assured that our solution will meet your evolving needs.

Real-time Visibility and Analysis:
Gain valuable insights into attack activities and mitigation strategies with our real-time visualization dashboard. Analyze the attack lifecycle, understand the threat landscape, and make informed decisions to protect your network effectively.

Seamless Integration:
Implementing a new solution shouldn't be a hassle. NSFOCUS Anti-DDoS Solution seamlessly integrates with your existing network infrastructure, minimizing disruptions and simplifying the deployment process. You can start protecting your network without major operational changes.

24/7 Dedicated Support:
At NSFOCUS, we prioritize customer satisfaction. Our dedicated support team is available round-the-clock to assist you during attacks or answer any questions you may have. We are committed to providing the highest level of support to ensure your network remains secure.
Don't let DDoS attacks compromise the integrity of your network. Choose NSFOCUS Anti-DDoS Solution to safeguard your infrastructure, benefit from our expertise, and ensure uninterrupted business operations.
Contact us today to fortify your network against the ever-evolving threat landscape.
About ATech Communication (HK) Limited
ATech Communication (HK) Ltd is one of the leading IT equipment & service provides for HKSAR Government Departments and Bureaux.  We provide the best value and the best IT solution to our customers. Please visit our Cases page to learn more about our successful works. For more information on ATech, please contact us at enquiry@atechcom.net.