Want the High Performance, Capabilities, and APIs that you get on-premises,
with the agility, scalability, reliability, security, and simplicity of a native cloud service?
Amazon FSx for NetApp ONTAP is here!
Amazon FSx for NetApp ONTAP: Your script for a blockbuster performance
AWS native block and file storage: The convenience of Amazon FSx is now combined with the proven data management capabilities of NetApp ONTAP software. FSx for ONTAP is sold, managed, and supported by AWS to meet your performance, data protection, and efficiency needs. It provides the compute, security, monitoring, and data services you need, integrated with the full NetApp portfolio.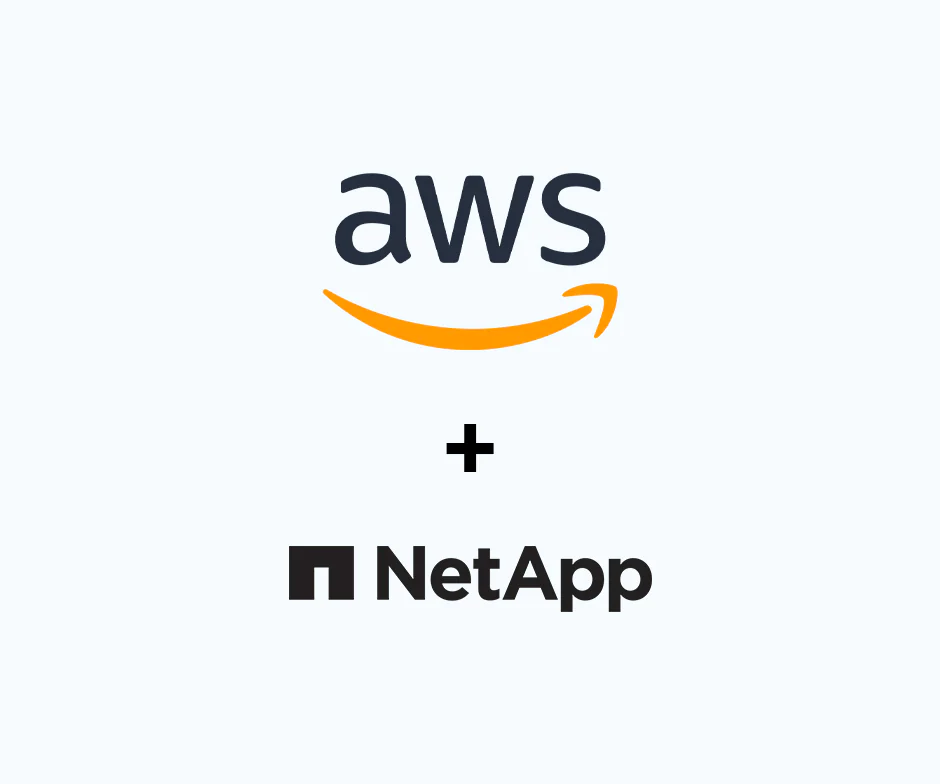 Whether you use ONTAP in your data center or not, FSx for ONTAP is your ticket to the cloud
Trusted by thousands of data centers, NetApp® ONTAP® provides a robust set of storage and data management capabilities to power major workloads and build modern applications. FSx for ONTAP brings the full power of ONTAP to a native AWS managed service, delivering a consistent hybrid cloud experience. What you get in the data center—performance, control, reliability—now you get in AWS.
Unlike some of our competitors who offer watered-down "cloud" solutions as an afterthought, FSx for ONTAP provides everything you need. Get full support for block and file storage for Windows and Linux workloads—the first time these multi-protocol capabilities are available as a fully managed service.
Amazon FSx for NetApp ONTAP: We make it easy to focus on your business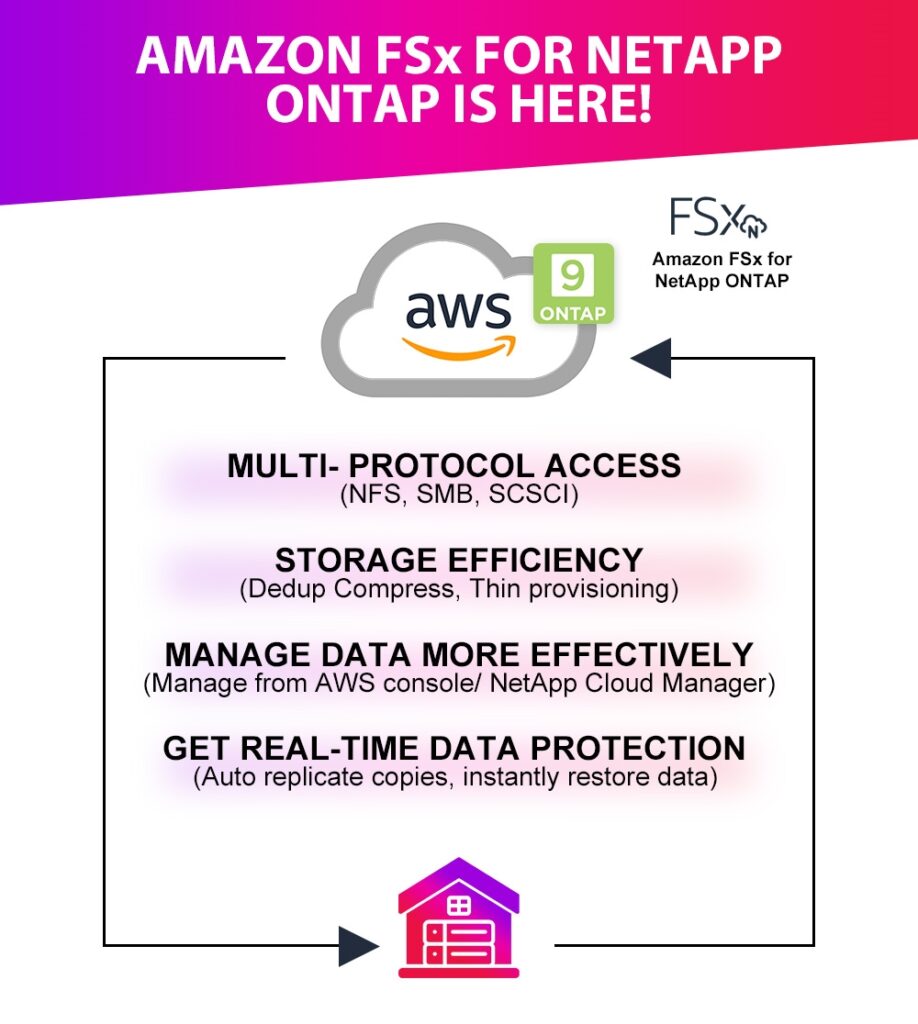 With multi-protocol support( NFS, SMB, and iSCSI protocols,) for Linux, Windows, and iSCSI instances, you can run applications in AWS without changing how you store or manage your data.
Manage data more effectively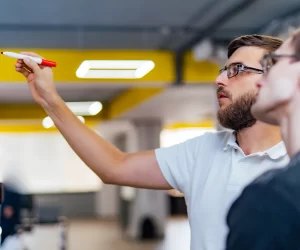 As the only cloud-native service that supports both NetApp APIs and  AWS, you can set up and manage your data from the NetApp Cloud Manager or AWS Management Console. 
 Including Deduplication and compression, Compaction, Thin provisioning & Data Tiering (FabricPool)
Keep your data compliant, highly available, and secure
Reduce backup times and instantly restore data with zero-impact NetApp Snapshot™ copies. Get built-in automation to replicate copies across AWS Availability Zones (AZs)
Why choose NetApp and AWS?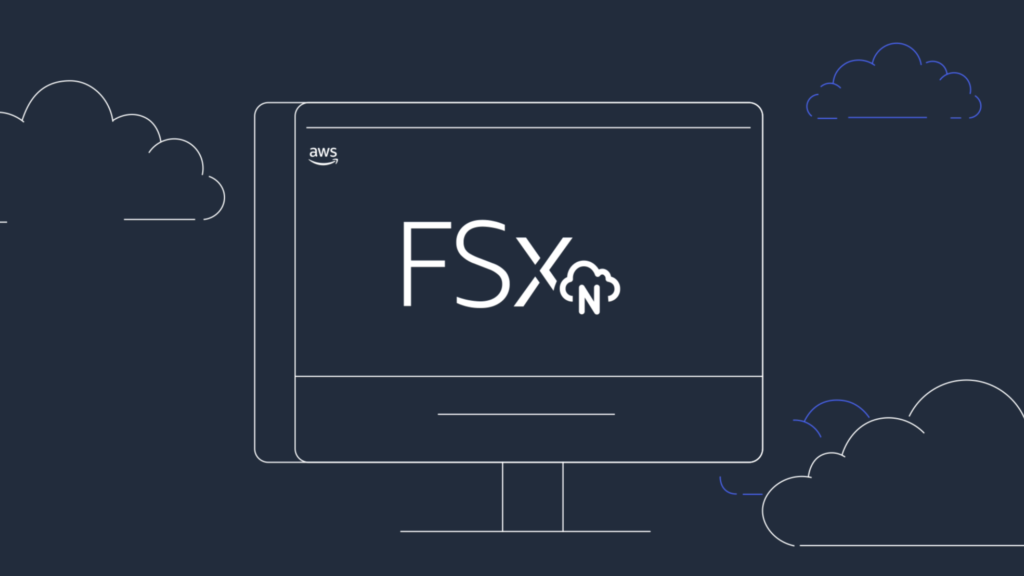 We're committed to helping you meet your data challenges and get more value from the cloud. With NetApp cloud solutions, you have complete control over your data in hybrid cloud environments. Get the same efficiencies you expect in the AWS Cloud, all from one ONTAP environment.
Read More: Introduction to Amazon FSx for NetApp ONTAP - Demo | Amazon Web Services
"Amazon FSx for NetApp ONTAP now makes it easier for customers to migrate applications and run them on AWS using the same familiar file storage workflows and data management capabilities they currently use on-premises."
This program is valid for purchase orders received and billed within the program period.

This program cannot be used in conjunction with any other promotional offers or discounts.

Returned and canceled orders will be excluded.

This offer is available until 31/3/2022.

In case of any dispute, ATech Communication (HK) Limited reserves the right to all final decisions.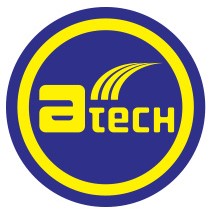 ATech Communication (HK) Limited
Providing a Complete Suite of IT Solutions